USA 1-0 England (29 June 1950) Independencia, Belo Horizonte
English football history is littered with false dawns. While the national team often suffered setbacks they were quickly forgotten and the air of invincibility was swift to return. After the humbling from the Wembley Wizards and the defeat in Spain of the late 1920s there were morale boosting victories over Austria and Italy to reaffirm the pre-eminence of the English game.
By the late 1930s defeat abroad had become almost commonplace, but victories at home ensured that few saw anything deeply wrong in domestic football. When peacetime returned in 1945 a similar pattern emerged. England were frequently tested and occasionally beaten (away in France in 1946 and Switzerland in 1947), but their form and quality were hard to judge.
On occasion England were able to produce performances that did suggest they could be world beaters. An 8-2 annihilation of Holland in a friendly perhaps pointed more to their international standing at the time than England's attacking prowess, but the 10-0 destruction of Portugal in Lisbon was a result to be respected. The most impressive of all the post-war friendlies (indeed arguably the most impressive single result England have ever recorded) was a 4-0 win over Italy in Turin. With an Italian side packed full of Torino stars, England were ruthless and took their chances clinically.
A fact recognised more in hindsight than at the time was the introduction of a dedicated England manager. While the players were still selected by a committee, Walter Winterbottom now had the task of shaping them into a team. That was a challenge that was easier said than done given the focus within English football remained squarely on the individual, rather than the collective. Moreover the committee which selected the team, did so with little or no regard for how they might combine together, complicating Winterbottom's job still further.
Walter Winterbottom
England were though blessed with a number of excellent individuals. Stanley Matthews was well into his thirties, but still possessed the rapid acceleration and body-swerve which had eluded defenders since the 1930s. Tom Finney was as complete and versatile an attacker as England ever produced and was capable of playing in any position across the front line. Tommy Lawton remained the ideal centre-forward for such a pair of wingers, commonly regarded as the finest header of a ball that English football has witnessed. To then be able to call on inside-forwards such as Wilf Mannion of Middlesbrough and Matthews' colleague at Blackpool, Stanley Mortensen, left Winterbottom in an envious position.
The return of the Home Nations to FIFA following World War II, opened up the opportunity of participating in the 1950 World Cup. The Home Championship was designated as a World Cup qualifying group with the top two teams allowed to travel to Brazil. While international relations had improved since the pre-war era, Scotland decided that they would only travel to the finals if they ended up as the winners of the Home Championship. As it was after beating Wales 4-1 in Cardiff and Northern Ireland 9-2 in Manchester, England travelled to Hampden Park for the deciding game. Scotland were narrowly beaten 1-0 courtesy of a Roy Bentley goal that ensured it would be England making the trip to South America.
England's World Cup preparations started smoothly. They warmed up for the tournament with a 5-3 win against Portugal and a 4-1 victory over Belgium, both away from home. Yet there were clear signs that a characteristic lack of focus was in place. England travelled to Brazil with just one member of their selection "committee", Arthur Drewry, alongside them. The FA also sent Stanley Matthews off on an unnecessary tour of Canada which meant he missed the first game of the tournament.
Wilf Mannion
Despite these complications England enjoyed a relatively straightforward victory in their opening group match against Chile. Goals six minutes either side of half-time from Mortensen and Mannion were enough to secure the win, though Chile twice struck the frame of the goal. With that hurdle vaulted England faced what appeared to be a formality for the second group game, this time against the USA.
When compared with England the USA were a marked contrast in both World Cup pedigree and current quality. As semi-finalists in 1930 the Americans were in one respect the side with experience on their side, but in terms of the players they took to Brazil they couldn't hold a candle to England. The demise of the first American Soccer League had weakened the strength of the domestic game and a 3-1 defeat to Chile in their opener pointed to a side that England might expect to beat. Manager Bill Jeffrey, a Scot, appeared to anticipate the worse when he said before the game "We ain't got a chance against your boys."
Quite how one sided the match was remains an open question. Most match reports suggest that England besieged the American goal, hitting the woodwork on a near constant basis and drawing save after save from Frank Borghi. In reality it appears to have been far closer, with England enjoying the majority of possession and chances but vigilant to the US threat.
With half-time rapidly approaching the Americans accomplished the unthinkable and scored. A wild shot from Walter Bahr (occasionally referred to as a clearance) was diverted into the net by the Haitian born Joe Gaetjens and England found themselves behind. Many would later suggest that Gaetjens contribution to the goal was inadvertent (Alf Ramsey suggested he was trying to duck), but Bahr was insistent that it was a deliberate and brilliant diving header.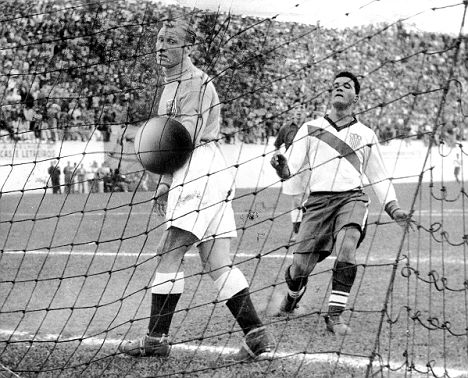 Joe Gaetjens
In the second-half England thought they had levelled through Mullen's header, but the referee judged the ball had not crossed the line. Earlier Tom Finney had hit the post, and England also went close through Mortensen but they remained incapable of finding an equaliser. Defeat to the USA should not have been fatal, and victory against Spain in the final group match would have sent England through. Instead they went down 1-0 to a goal from the legendary goalscorer Telmo Zarra. England's first World Cup adventure ended in ignominy.
Somewhat typically the reaction to this failure at home was rather less apocalyptic than the modern reader might expect. Just as with the defeat to Spain and the continental reverses that followed the fact that the humiliation took place abroad, far away from home, meant that it was out of sight and largely out of mind. It would take more than this setback to shake England's faith in their position among the world powers.