Luis Arconada (Real Sociedad and Spain) *** 34 games, 0 goals
Arconada's brilliance in goal was a central part of Real Sociedad's Spanish title success. The Basque club had narrowly missed out the previous season, but were not to be denied a first ever championship in 1980-1. The consistency of Arconada led many to regard him as the world's best keeper.
Dino Zoff (Juventus and Italy) *** 30 games, 0 goals
Scudetto success for Juventus was again based on their defensive excellence. The Turin giants conceded just 15 goals in the league all season and Zoff was an ever present part of that excellent unit. Even at 39 few can top Zoff's command of his penalty area.
Harald Schumacher (Koln and West Germany) ** 34 games, 0 goals
Koln might have only managed a midtable finish but there was no better goalkeeper in West Germany than Harald Schumacher. While injury to both Sepp Maier and Norbert Nigbur handed Schumacher his place in the West German national, he has now demonstrated that he is fully deserving of his position between the posts.
Peter Shilton (Nottingham Forest and England) ** 40 games, 0 goals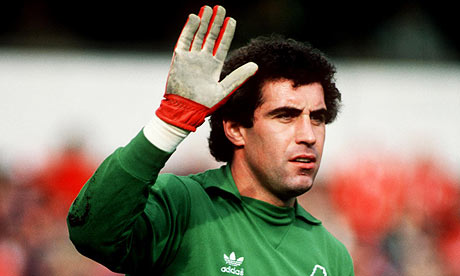 While Nottingham Forest couldn't hold on to their European Cup crown, Shilton was again a model of consistency in goal. Arguably the most well rounded goalkeeper in the game, the England international is apparently without a weakness though he may not pull off quite as many spectacular saves as his rivals.
Manuel Bento (Benfica and Portugal) * 30 games, 0 goals
An excellent season for Bento was well rewarded with another Portuguese league title, the fifth of his career. Benfica were pushed hard all season by Porto, but in the end they held on and won the championship by just two points. Bento remains the first choice keeper for the Portuguese national team with his unrivalled consistency.
Ronnie Hellstroem (Kaiserslautern and Sweden) * 34 games, 0 goals
Veteran keeper Hellstroem played a huge role in Kaiserslautern's top four finish. Conceding just 37 goals in the season, the Swedish goalie gave Kaiserslautern the best defensive record in the league. Had the club's attackers matched Hellstroem's exploits they might have been genuine rivals to Bayern Munich.
Urruti (Espanyol and Spain) * 31 games, 0 goals
Urruti must curse Luis Arconada. For the rise of Arconada led Real Sociedad to sell Urruti to Espanyol, while he now blocks his path in the national team. Despite that 1980-1 was a fine season for the Espanyol keeper, whose heroics in goal ensured that relegation was never a likely possibility.
Ray Clemence (Liverpool and England) * 41 games, 0 goals
After 14 incredible seasons at Anfield, Clemence moves to Tottenham at the end of the season. During his time in Liverpool the keeper captured almost every trophy available in the game (the only ones missing from his collection are the Cup Winners' Cup and the Inter-Continental Cup). In winning his third European Cup he characteristically kept a clean sheet in the final victory over Real Madrid.
Rinat Dasaev (Spartak Moscow and Russia) * 34 games, 0 goals in 1980, 34 games 0 goals in 1981
Finishing second in both 1980 and 1981 to Dynamo Kiev, Spartak Moscow demonstrated a remarkable level of

consistency. Indeed it is that attribute which marks out keeper Dasaev, who remains a dominant force in their defence. The Soviet keeper made a rare error in Spartak's European Cup quarter-final defeat to Real Madrid, allowing Isidro to put the Spaniards 2-0 up, but two late saves were evidence of his rare brilliance.
Jean Castaneda (St Etienne and France) * 35 games, 0 goals
Succeeding Ivan Curkovic was no easy task for the young Frenchman. The Yugoslav keeper had been a legend at St Etienne and had throughout the 1970s been one of the best keepers in the world. Despite the pressure placed on him, Castaneda was more than up to the task as he won a debut Ligue 1 title.
Thomas Ravelli (Osters and Sweden) * 26 games, 0 goals in 1980, 26 games, 0 goals in 1981
Osters won league titles in both 1980 and 1981 and both times had Ravelli to thank for their success. Far from the calming influence that so many of the best keepers provide, Ravelli is a hive of activity, but this proves to be a great strength as he is always prepared for the unexpected and is capable of pulling off the most remarkable saves.