As part of my upcoming history of tactics I've set out below some explanation of the various positional roles that will be commonly used. Most of these are common place and should be easily understood. Some though relate specifically to historical positions which no longer exist in the modern game and where misleadingly the name now applies to a very different role (centre-half and full-back for instance).
In all cases I have anglicised the positional terminology. Zagueiro, Regista and Enganche may add a bit of authenticity to descriptions of footballing formations but they do little to aid basic understanding. Furthermore I've tried to give a famous example for each position to aid the understanding of the role. Where possible these should be contemporary players that everyone should be aware of, where the position went out of fashion some years ago I have selected a classical example.
Hopefully these should be easily understandable and I've not gone overboard in splitting the various roles (the Brazilians have at least 5 different terms to define different types of central attacking midfielder), while still giving appropriate attention to the subtle variations between roles.
Goalkeepers
Goalkeeper: Not much explanation necessary for this one. Since the amendments to the Laws of the Game in 1870 a goalkeeper has always been a feature of football. (Example: Gianluigi Buffon)


Goalkeeper: Gianluigi Buffon

Sweeper keeper: A keeper prepared to rush off his line to act like an additional defender and play the ball with his feet. Various disputes exist over who was the first keeper to do this from Gyula Grosics to Petar Radenkovic, but regardless they tend to be the exception rather than the rule (Example: Rene Higuita)

Sweeper Keeper: Rene Higuita
Defenders
Right or left fullback: In the classical pyramid formation, one of two defenders expected to cover all defensive duties. They would generally cover the central forwards of the opposing team. With the move to the WM and the arrival of a third back these players moved out towards the flanks and began to cover the opposing wingers. Little to no responsibility for going forward. (Example: Bob Crompton)
Right Fullback: Bob Crompton
Right or left back: Lateral defenders in a 4 or 5 man defensive line. Some responsibility for going forward but primarily defence minded. (Example: Gary Neville)

Right-back: Gary Neville
Right or left wing-back: Lateral defenders who look to get forward, these will normally be positioned between the defence and midfield. Some very attack minded versions can spend most of the game attacking. (Example: Roberto Carlos)
Left Wingback: Roberto Carlos
Centre back: Originally a term to describe the third back in the WM formation. Now a generic term to cover all central defenders. In these lists a term to cover an all round defender who has elements of stopper and cultured defender to his game. (Example: Carles Puyol)

Centre-back: Carles Puyol

Cultured defender: A central defender who is comfortable on the ball and has good technical skills. They will normally play in a 4 man defensive line and be partnered by a stopper. (Example: Rio Ferdinand)

Cultured Defender: Rio Ferdinand

Sweeper (also known as the libero): A defender who will sweep up behind the rest of the defence and act as the spare man. Commonly, though not always, a cultured defender who will bring the ball out from the back and join the attacks. (Example: Danny Blind)

Sweeper: Danny Blind

Stopper: A central defender who is almost exclusively used to stop the opponents. Commonly they will be less skilful on the ball than a cultured defender and will be unlikely to bring the ball out of defence. (Example: John Terry)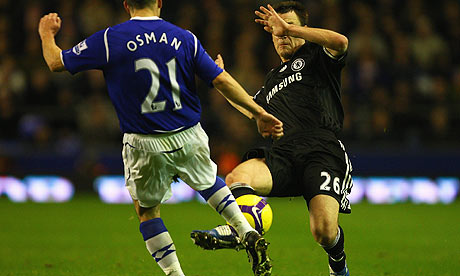 Stopper: John Terry