Goalkeeper
Manuel Neuer (Schalke 04 and Germany)
Schalke's incredible run to the semi-finals of the Champions League could be strongly attributed to the stellar performances of goalkeeper Neuer. His performance in the Gelsenkirchen club's semi-final first leg was described by Sir Alex Ferguson as arguably the best he had seen against United in his 25 years of management. Indeed comparisons were made to Peter Schmeichel following the game as Neuer pulled off a string of stunning saves. While Schalke's Bundesliga

performances were a major disappointment Neuer was one of the few players who

did themselves justice and in truth the season might have been much worse (Schalke only managed a 14th place finish) if it had not been for their inspirational keeper.
Nominations:
Christian Abbiati (AC Milan and Italy)
Steve Mandanda (Olympique Marseille and France)
Victor Valdes (Barcelona and Spain)
Edwin Van der Sar (Manchester United and Holland)
Right-back
Daniel Alves (Barcelona and Brazil)
Unquestionably the finest full-back in the world this season, Alves' energy and tireless running are a fundamental part of the success Barca continue to enjoy. As much a right-winger as a right-back, Alves benefits significantly from the overwhelming levels of possession that Barcelona take for granted, but he remains the man who gives much needed width to a team so often keen to play through the middle. His 15 assists in La Liga trailed only Lionel Messi and Mesut Oezil, showing the value he offers offensively. Having missed the 2009 final through suspension he will have been delighted to havemade his presence felt at Wembley for the 2011 victory.
Ignazio Abate (AC Milan and Italy)
Mathieu Debuchy (Lille and France)
Branislav Ivanovic (Chelsea and Serbia)
Dario Srna (Shakhtar Donetsk and Croatia)
Left-back
Marcelo

(Real Madrid and Brazil)
Previously regarded as the weakest link within a fragile Madrid backline, 2010-11 saw Marcelo come of age.

Rampaging forward down the left flank, the 23 year old was reminiscent of his compatriot Roberto Carlos, who dominated the Bernabeu for a decade. Capable of playing as a left-winger when Mourinho needed to shuffle his pack, Marcelo proved a constant threat to opposing defences while his stamina allowed him to cover tremendous amounts of ground. While rumours persist over a potential move for Fabio Coentrao, Marcelo has proven himself this season and will be difficult to shift from the Madrid starting line-up.
Leighton Baines (Everton and England)
Fabio Coentrao (Benfica and Portugal)
Ashley Cole

(Chelsea and England)
Marcel Schmeltzer (Borussia Dortmund and Germany)
Centre-backs
Nemanja Vidic (Manchester United and Serbia)
Consistently outstanding in Manchester United's Premier League victory Vidic has fully vindicated Ferguson's decision to make him fulltime club captain. So many of United's victories were narrowly won and were dependent on Vidic's marshalling of the backline with Ferdinand injured and Evra suffering a dip in form. Most incredible was their record of not conceding a single goal away from home in the Champions League (excluding the final which was played at a neutral venue), a new record for the competition. It was no surprise therefore that he was named as the Barclays Player of the Year in recognition of his phenomenal performances in the league.
Mats Hummels (Borussia Dortmund and Germany)
Borussia Dortmund's surprise Bundesliga crown was based firmly on the performances of a Hummels led defence. Die Schwarzgelben conceded just 22 goals in 34 games in the league, with an incredible home record which saw just 8 let in. The performances of Hummels only served to rub salt in the wounds of Bayern Munich who struggled in central

defence and must still be kicking themselves for allowing the hugely talented 22 year old to leave the Allianz Arena in 2009. It can only be expected that Hummels will now form the corner stone of a phenomenal generation of German talent for years to come.
Ricardo Carvalho (Real Madrid and Portugal)
Vincent Kompany (Manchester City and Belgium)
Alessandro Nesta (AC Milan and Italy)
Gerard Pique (Barcelona and Spain)
Mamadou Sakho (Paris Saint-Germain and France)
Thiago Silva (AC Milan and Brazil)
Neven Subotic (Borussia Dortmund and Serbia)
Jan Vertongen (Ajax and Belgium)
Defensive midfield
Arturo Vidal (Bayer Levekusen and Chile)
Having finished 4th in the Bundesliga in 2009-10, Leverkusen thought than an influential midfielder might help them improve the following season. However, it was not the returning Michael Ballack that led them to Champions League qualification, but Chilean enforcer Vidal. The former Colo-Colo man was a hive of activity in the Leverkusen midfield, but his industry belies the deft touch and clever passing that he brings to the team. Leverkusen will be keen to retain their star player ahead of their Champions League campaign, but will not be short of suitors for such a complete midfield general.
Sergio Busquets (Barcelona and Spain)
Sami Khedira (Real Madrid and Germany)
Yann M'Vila (Rennes and France)
Scott Parker (West Ham and England)
Central midfield
Xavi (Barcelona and Spain)
Yet another superb season for the world's finest metronome. His ability to set the pace and tempo of almost every game he plays in is unparalleled and as such he is arguably the most important cog in the Barcelona machine. This season saw him pass Migueli as the man with the most appearances for Barcelona as he led them to yet more glory, captaining the team in the Champions League final in the absence of the injured Carles Puyol. Although far from a prolific goalscorer he came up with some crucial goals at important times in the season, with the first in Barca's 5-0 thrashing of Real Madrid and against Arsenal in the Champions League second-round. He also played a huge role in the final with a fabulous pass to Pedro for the opening goal and strangled the United midfield with his 141 completed passes.
Hernanes (Lazio and Brazil)
Luka Modric (TottenhamHotspur and Croatia)
Joao Moutinho (Porto and Portugal)
Nuri Sahin (Borussia Dortmund and Turkey)
Attacking midfield
Mesut Oezil (Real Madrid and Germany)
Following his stellar performances at the World Cup, Oezil established himself firmly at the top of the pecking order within Real Madrid's congested midfield. His 17 assists (only Lionel Messi managed more) were instrumental in Madrid's concerted challenge to Barca, while his 6 in the Champions League were unmatched. If there was a criticism to be raised it was that he failed to deliver in the games against Barcelona, but that should not mar what was a fabulous debut season in Spain. The Madrid based press tipped the German as a potential Ballon D'Or winner in future and if he continues to improve at his current rate he will be sure to challenge Messi and Ronaldo before too long.
Andres Iniesta (Barcelona and Spain)
Marek Hamsik (Napoli and Slovakia)
Samir Nasri (Arsenal and France)
Alex da Souza (Fenerbahce and Brazil)
Forwards and wingers
Lionel Messi (Barcelona and Argentina)
What more is there to be said about the genius from Rosario? Let's start first with the numbers. 53 goals and 24 assists in 54 games this season speaks for itself, while his 12 goals in the Champions League equalled Ruud Van Nistelrooy's record for a single season. But those numbers don't begin to do justice to the brilliance of the Barca No. 10. Even without the goals, his ability to beat a man or find a yard of space when he appears to be well marked are priceless. Furthemore he continues to knock down all the points that stand against him. Before Barca's clash with Real Madrid he had never scored in the semi-finals of the Champions League, yet two moments of brilliance put paid to any question marks over his ability to do so. The first of those was a piece of movement and finishing that Ian Rush would have been proud of, the second a trademark slaloming dribble that left four defenders trailing in his wake. Before the final it was observed that he had never scored in England but his emphatically hit second goal took away one of the few blots on his copy book. The world's best player just got even better.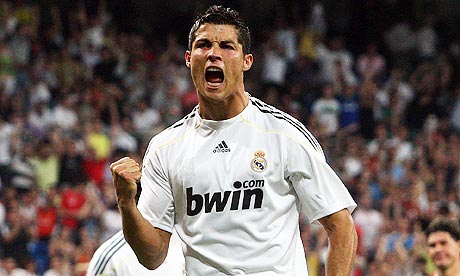 Cristiano Ronaldo (Real Madrid and Portugal)
In any other season Ronaldo's 40 goals in La Liga, eclipsing the long standing record of Telmo Zarra and Hugo Sanchez, would have been the story of the season. Not this year, but it remains an incredible feat. Doubters pointed to the fact that 11 of those goals came in the final four games of the season when the title was effectively already gone, but what about the 29 that went before them? Ronaldo also broke his duck against Barca with a penalty in the league, before his pinpoint header wrapped up the Copa del Rey. He might not be the best player in the world, but Ronaldo's combination of pace, skill and power makes him a force of nature that very few defenders are able to cope with.
Gareth Bale (Tottenham Hotspur and Wales)
Santi Cazorla (Villarreal and Spain)
Angel Di Maria (Real Madrid and Portugal)
Antonio Di Natale (Udinese and Italy)
Eden Hazard (Lille and Belgium)
Nani (Manchester United and Portugal)
Alexis Sanchez (Udinese and Chile)
Carlos Tevez (Manchester City and Argentina)
Strikers
Radamel Falcao (Porto and Colombia)
No club team enjoyed quite such a successful story as Porto this season. Completing an unbeaten campaign in the league, victory in the Portuguese Cup and a Europa League crown to top it off. In such a successful season it was difficult to pick out individual stars, but Falcao shone brighter than them all. His 16 league goals in 22 games was a slight decline on the previous year, but it was in the Europa League that he really came to the fore. 17 goals in just 14 games broke Jurgen Klinsmann's record for the competition, with an amazing four goals scored in their second-half demolition of a strong Villarreal side in the semi-finals. While Villas-Boas, the Porto manager, is desperate to keep his squad together for the Champions League next season it looks inevitable that Falcao will be on the shopping list of Europe's most prestigious clubs.
Edinson Cavani (Napoli and Uruguay)
Samuel Eto'o (Inter and Cameroon)
Mario Gomez (Bayern Munich and Germany)
Moussa Sow (Lille and Senegal)